Before you start "promoting" stuff online, you should fully understand how you actually earn money from the Internet.
There are ten's of thousand's of companies out there that are BEGGING for people like yourself to work with them. Yes, literally begging.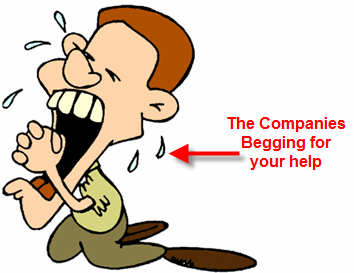 These are called affiliate programs and when you join them you become their "affiliate". We run a couple affiliate programs ourselves and we know the importance of paying affiliates (people like yourself) well, and treating them well.
In fact, we would go as far to say that most online businesses are powered by affiliates. Meaning, without people like you promoting products online there would not be the selection of products or services out there.
So what is the point of an affiliate?
Your goal as an affiliate is to send visitors to a website and if someone buys something, you get a commission. It really is as simple as that! (and this is what we are going to teach you)
There are affiliate programs in almost every imaginable niche. Almost all of the big companies out there have affiliate programs. These include Walmart, Target, Nike, FedEx, and American Express. The list really is endless.
Affiliate programs earn Internet marketers BILLIONS of dollars in commissions every year. Below is a diagram outlining the Affiliate Marketing model.



Clickbank, the largest "digital product" affiliate network online offers commissions of up to 75% on many of their products. Here are just a couple examples of what you can promote within this network:
Know anyone that wants to lose weight?
Strip That Fat Diet Guide Pays $37.48 per sale.
Know anyone that wants to produce solar energy?
Earth 4 Energy Pays $31.33 per sale.
Know people that like to cook recipes that are gluten and dairy free?
Paelo Cookbook by Nikki Young Pays $18.48 per sale.
Know anyone that wants to learn how speak Spanish?
Rocket Spanish Pays $63.92 per sale
And that is just scratching the surface of ONE affiliate network. Clickbank alone has over 12,000 different digital programs that you can promote "under one roof". Meaning that you only need to sign-up to them once and you have access to promote all of their products.
Create a clickbank account here:
https://www.clickbank.com/affiliateAccountSignup.htm
We know that not everyone reading this will be able to sign-up to Clickbank because they don't allow some countries, but don't worry. There are 100's of networks out there.
Here are a few examples:
A single affiliate commission can top several $100 for making a single sale or lead. There are affiliates making well over $1,000,000 per year just by promoting other companies' products. This sort of success is possible...we know first hand! :)
Your Tasks for this Lesson:
(1) Sign-up to Clickbank
(2) Sign-up to at least 2 other affiliate programs
(3) Find at least one product you could promote for each "Interest". For example, if your interest was health, the Strip That Fat Diet Guide could be one of your product selections.
*Note: You can search for products within each network, or you can do a search in Google for affiliate programs. To do this you would perform the following search "affiliate program + interest". Replace "interest" with your chosen Interest. An example of this could be "affiliate program + health"